Skip to Product Information
CHRISTMAS - DELIVERY GUARANTEED FOR 24TH DEC - MORE INFO

DELIVERY GUARANTEED UNTIL CHRISTMAS

Standard delivery guaranteed until 19th December.
Express delivery guaranteed until 09:00 am on 20th December.

FREE SHIPPING FOR RVCA INSIDERS. JOIN NOW
Zak Noyle II - Camera Bag
Out of Stock
Q5BPRFRVF9
Zak Noyle is back with a new signature camera backpack. Its features include a roll-top entry, exterior laptop sleeve, and a side water bottle pocket designed to also hold a tripod. Additional storage features include a fleece-lined eyeglass holder, an interior organizer with a removable divider, a passport compartment, and a camera compartment that can be removed to convert the bag into a daypack. Built with water repellent textile, the 35-liter bag comes with a concealed rain cover for extra protection against the elements. For added support, the backpack features an abrasion resistant base, ergonomic shoulder straps, a mesh padded real panel, and an adjustable sternum strap.
Camera bag


Zak noyle signature bag

Water repellent fabric

External side laptop sleeve

Roll-top entry

Fleece-lined eyeglass holder

Adjustable sternum strap

Internal organiser

Side water bottle pockets

Mesh padded rear panel

Ergonomic shoulder straps

Abrasion-resistant base

Passport compartment

Designed to hold tripod

Concealed rain cover

Removable camera compartment

Removable internal divider

Converts to a day pack when removing camera compartment

Volume: approx. 22l capacity
Shipping
Free standard delivery for all RVCA Insider members, no minimum spend. See details.
48-72 hour Express Delivery: £11.00
Returns
30 days to change your mind. See details.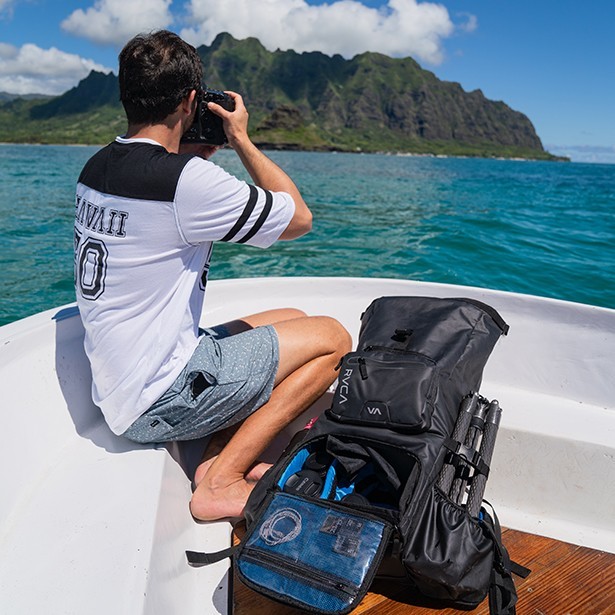 "In creating the follow up to the first signature camera bag, we had to further the function and quality on all fronts. By elongating the top roll compartment we have added more volume to the bag allowing more in closing of any item up top with ease. Adding pockets that expand to each side, we are able to fit a tripod and reusable water bottle all while keeping the pack streamline. The camera compartment remains large in the way it can fit a DSLR of any size from the largest down to the smallest. Many a stories have risen from the first generation bag where people use the bag for a multitude of items. The versatility allows for you to use what suits and matches you best! Thank you for the support always, adventure and creativity awaits you!" – Zak Noyle
Reviews